Crypto Price Analysis Oct-6: ETH, XRP, ADA, SHIB, and SOL. This week, we look closely at Ethereum, Ripple, Cardano, Shiba Inu, and Solana.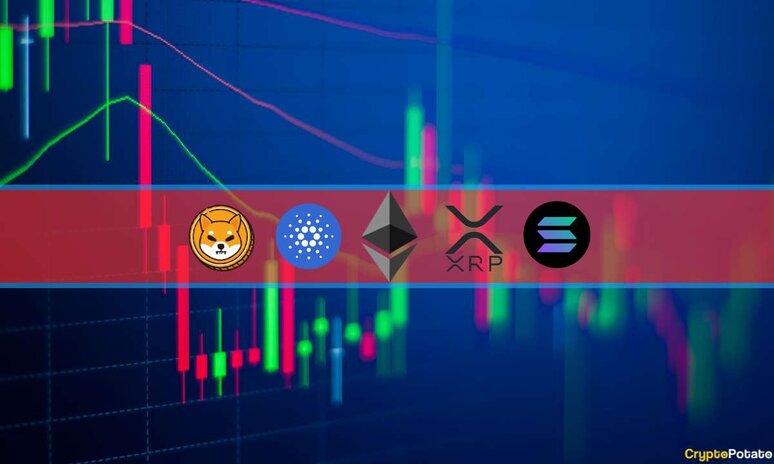 Ethereum (ETH)
Sellers abruptly stopped Ethereum's attempt to break beyond $1,660, and the price has now fallen to the crucial support trend line. As a result, ETH experienced a 2.5% loss for the week.
The $1,550 support is starting to come under a lot of pressure from the absence of buyers, and momentum indicators are continuing in the negative territory. And to make matters worse, there is no sign that the bearish trend in ETH/BTC will soon end—the urge to sell rises.
If bulls don't emerge soon, the price may break out of this gigantic ascending triangle, which would be a bearish indication and cause a significant decline.
Ripple (XRP)
The price of XRP had a successful week, with attempts made to break through the resistance at 57 cents. However, sellers entered the market early to halt this movement, so the price is currently in a correction phase. Nevertheless, XRP managed to record a 2.5% price increase despite this.
This demonstrates that bulls are becoming more eager. The MACD on the 3-day timeframe performed a bullish cross this week, and the momentum indicators are also increasing. This might be the beginning of a rally.
Looking ahead, XRP might surge considerably higher and towards 68 cents if the resistance at 57 cents cracks. The present support level of 47 cents is holding firm.
Cardano (ADA)
Finally, Cardano was able to move above 25 cents, and ever since then, the price has been rising, establishing this level as support. This made it possible for the cost to end the week up 5%.
Twenty-eight cents represents the next point of resistance on the graph. If this momentum continues, ADA might do this later in the following week. Given that Cardano has been in a downturn for the last three months, this reversal in price behavior is much welcomed.
ADA can build on these recent gains and move higher if the market doesn't turn bearish shortly.
Shiba Inu (SHIB) 
SHIB has not managed to leave its current range, in contrast to ADA, and it is still in a flat trend with little volatility and volume. Additionally, this week, it lost 2.3% of its value.
As long as market players don't return to Shiba Inu, this price action will likely persist. There isn't enough conviction to overcome the resistance at $0.0000075 or the present support level of $0.0000070.
It's uncertain if this will change very soon, but SHIB seems to have trouble luring purchasers.
Solana (SOL)
This week, Solana took a break and abstained from trying to overcome the resistance at $25. It was the best performer on our list despite only booking a 15.6% price hike.
If the stock maintains its current fall, buyers should move back around $22, where there is strong support. Overall, SOL is still in an uptrend and may attempt to breach the resistance after this downturn.
Later in October, Solana will still have an excellent chance to investigate higher levels. On the chart, the current targets are $25, $28, and $30.